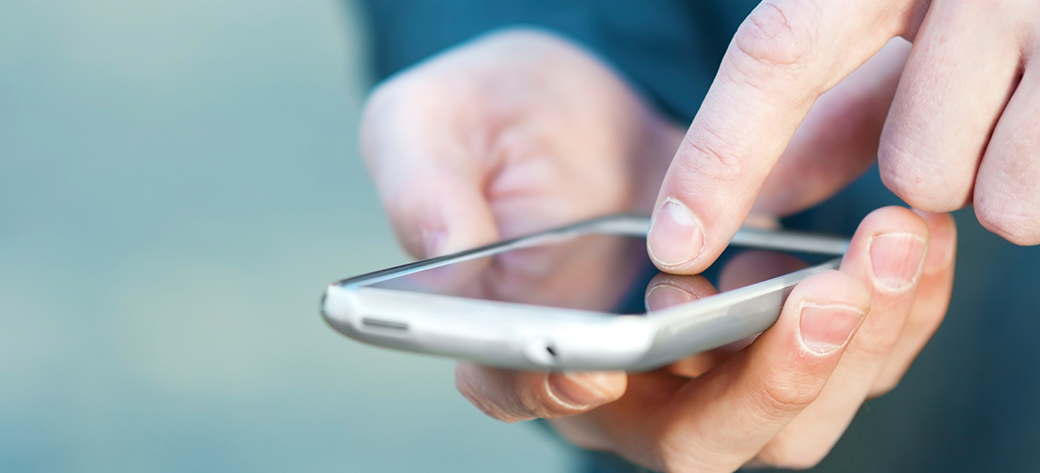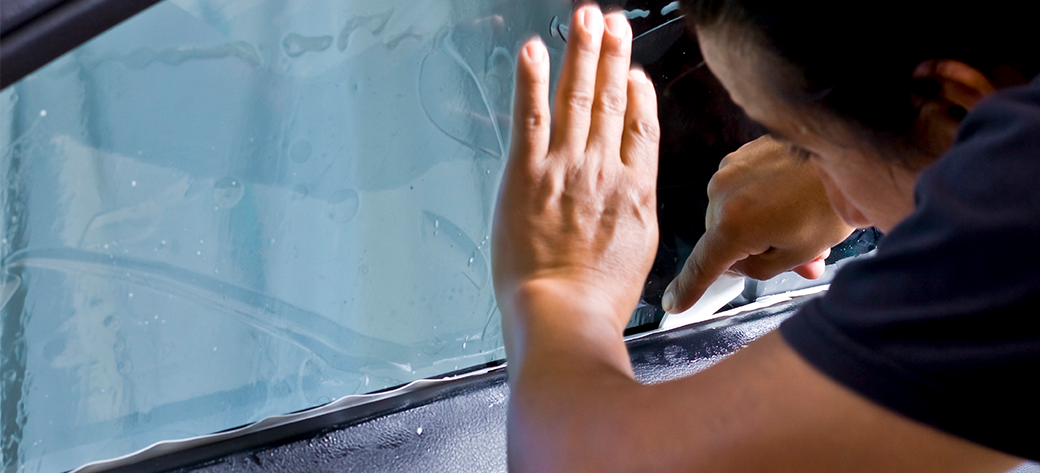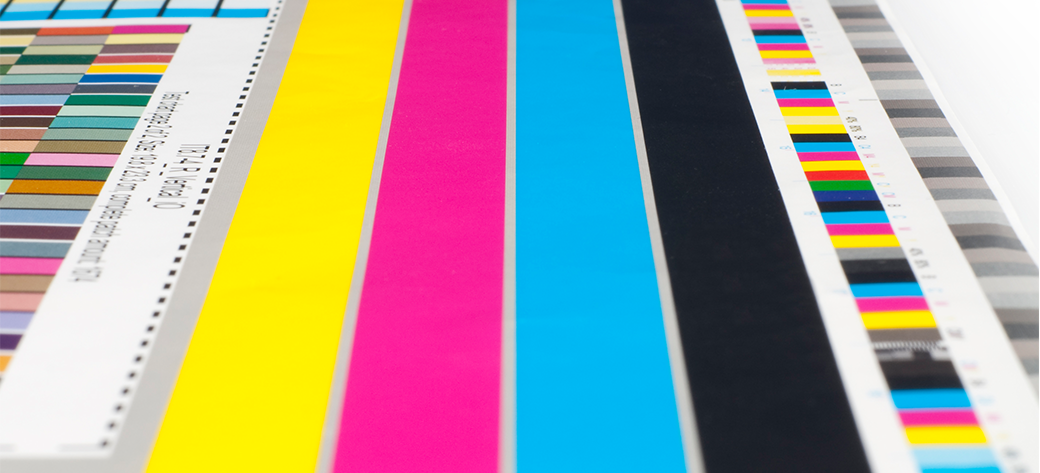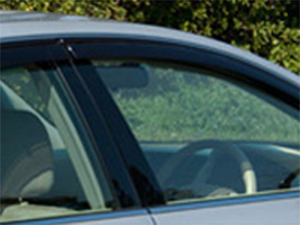 Lintec's pressure-sensitive adhesive products have been developed to meet a wide range of industry needs which includes specialty adhesive products for various kinds of information devices and automobiles related application.
Industrial-use adhesive products
Window film for automobile and building
Others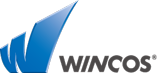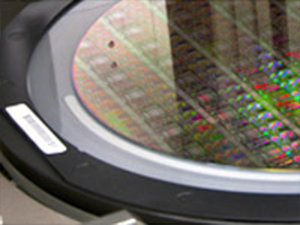 Lintec has built a unique position in electronics with combinations of advanced pressure-sensitive adhesive technologies, precision processing technologies, and system development technologies.
Semiconductor-related tapes and equipment
Coated films for multilayer ceramic capacitor production
Others
As a leader in pressure-sensitive adhesive materials, Lintec provides high quality products, such as those used in seals, labels, stickers and nameplates. Our hardware includes, printing machines and other solutions will enhane your printing result to give you an edge.
Adhesive papers and films for seals and labels
Barcord label supplies
Label printing machines
Others
LINTEC SINGAPORE was originally established on 21 December 1993 as the Representative Office of LINTEC Corporation, JAPAN. It was among the first few offices to be registered outside Japan and it served as the main communicating and coordinating channels for all the international customers of LINTEC JAPAN in the Semiconductor industry.
Foreseeing the situation then of a fast growing market, locally and globally, the Representative Office decided that it would be in a better position to provide customers with more prompt and efficient services if the office were to operate as a local channel with its own sales and technical service team. Hence LINTEC SINGAPORE Pte. Ltd. was locally incorporated on 25th February 1995 as a wholly owned subsidiary of LINTEC JAPAN.
Expansion took place almost immediately and by April 1995 LINTEC SINGAPORE, besides semiconductor-related products, was also handling its Head Office's core products comprising of numerous types of self-adhesive label materials and relevant printing equipments. In July 1998 LINTEC SINGAPORE set up its own warehouse for inventory and slitting facilities as well as dealing directly with end-users.
Because of expansion LINTEC SINGAPORE had, through the years, found it necessary to relocate from the original office in Duxton Road (1993/1995) to North Bridge Road (1995/1997) and to Keppel Towers (1998/2003) and finally to its current location at Bendemeer Road.
To this day, despite the economic changes, LINTEC SINGAPORE has been able to manage successfully its businesses in the Semiconductor and Label Printing industries. It now has Subsidiary Offices in Philippines and Malaysia as well as in Bangkok, Thailand. LINTEC SINGAPORE has grown tremendously since its inception and will continue to grow and go forward in the years to come.
The Lintec Group
The Lintec Group is advancing and combining the core technologies it has cultivated over many years, drawing on insight and multiple leading-edge technologies to create and launch innovative products that provide new value and increased functionality.
Manufacturing Pressure-sensitive Adhensive Materials & Related Products
Lintec is a leading Japanese manufacturer in the field of pressure-sensitive adhesive materials. We offer an extremely diverse range of products that includes adhesive papers and films for seals and labels, packaging tapes, construction materials, automotive products, tapes for use in semiconductor manufacture, and optically functional films.
We also develop and manufacture a variety of equipment optimally designed for use with our label materials and tapes; included are label-printing machines, packaging machines and electronic equipment. Our comprehensive approach to both soft (materials) and hard (equipment) aspects of the business ensures a productive synergy, enabling us to cater to diverse customer needs in the adhesives market.
Combining 4 Key Technologies
Reflected in our company name, Lintec (formed from "linkage" and "technology") is the commitment of all employees to develop new business fields through linking people with technologies to create innovative new solutions for the world market.
In addition to adhesives and related products, Lintec also develops and supplies specialty papers such as color papers and functional papers for industrial use, and a wide variety of products in the field of converted papers and films, such as release papers, casting papers and impregnated papers. Lintec's approach is to combine four key technologies to develop highly distinctive products unlike anything else available in the market.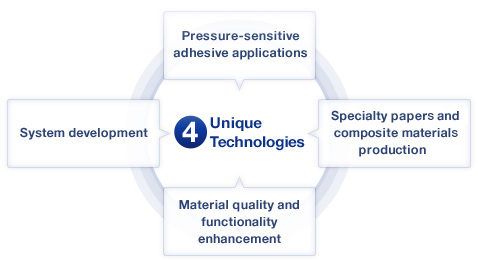 Core Technologies
Synergy between 4 unique, cutting-edge technologies leads to infinite potential for future product development.
Lintec's approach to product development is to link four original technologies – pressure-sensitive adhesive applications, material quality and functionality enhancement, specialty papers and composite materials production, and system development. The products resulting from this synergy satisfy the diverse needs of our customers.
Pressure-sensitive adhesive applications
Through the development of pressure-sensitive adhesives and substrates and the combination of related technologies, we are expanding the range of fields in which the basic functions of pressure-sensitive adhesive products are utilized
Material quality and functionality enhancement
Through the chemical and physical processing of paper, film, and pressure-sensitive adhesives, we are enhancing their characteristics and adding new functionality.
Specialty papers and composite materials production
We use original papermaking technologies and coating, impregnation, and laminating technologies to develop specialty papers and high-value-added materials that transcend traditional concepts of paper.
System development
Through systematizing machinery and equipment and building high-level systems that draw on the distinctive characteristics of materials, we are providing advanced solutions.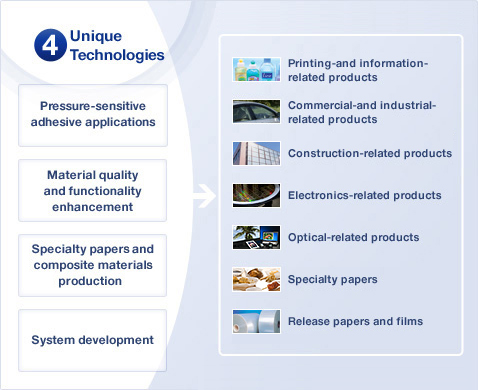 LINTEC SINGAPORE Pte Ltd

Head Office / Adhesive Products Group
Address
2 Toh Guan Road East, #02-01, Singapore 608837
Phone
(65) 6221 5854 
Fax
(65) 6278 0372

Advance Material Operations
Address
20 Bendemeer Rd., #04-11/14, BS Bendemeer Centre, Singapore 339914
Phone
(65) 6221 5854

Corporate Office
Address
20 Bendemeer Rd., #03-05 BS Bendemeer Centre, Singapore 339914
Phone
(65) 6221 5854
Fax
(65) 6812 4199
Head Office / Adhesive Products Group
Advanced Material Operations / Corporate Group
Lintec's Motto: Sincerity and Creativity
The company name LINTEC derives from "linkage" and "technology", two key components of our business philosophy, which emphasizes the importance of close relations, inside and outside the company, and leading-edge R&D programs. By bringing these together to develop innovative solutions, we have established a reputation in Japan and overseas as a dynamic and reliable company that contributes to the prosperity of our stakeholders, to the growth of our industry, and to a brighter future for society as a whole. And underpinning all of our business activities is an unwavering emphasis on "Sincerity and Creativity", the twin values enshrined in our company motto.
FOR TOMORROW WE BUILD TODAY